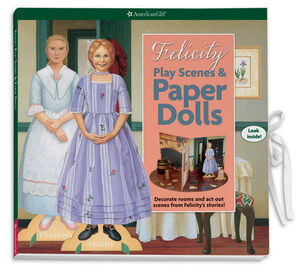 Felicity's Play Scenes and Paper Dolls
is a set of
paper dolls
focusing on
Felicity Merriman
. It was released in
2011
.
Dolls
Storage
Outfits and Accessories Represented
Felicity
Elizabeth
Accessories
Cat
Holiday Basket
Bedside Mirror
Painting
Tapestry
Peach Preserves
Cabbage
Assorted Crockery
Preserves Jar
Bread Loaf
Broom
Tea Kettle
Kettle
Apple Sack
Two Apples
Gold kettle of Apple Mush
Apple Basket
Container on stool with half apple
Coffee-Bean Roaster
Vegetable basket
Peppers in container
Cake
Leaf branch
Eggs in bowl
Chicken in a wicker cage
Bread Rolls
Wash basin and pitcher
Vase of Flowers
Tulip painting
Furniture
Dressing Stool
Dressing Table
Chair
Woodpile
Storage Barrel
Butter Churn
Background Scenes
Ad blocker interference detected!
Wikia is a free-to-use site that makes money from advertising. We have a modified experience for viewers using ad blockers

Wikia is not accessible if you've made further modifications. Remove the custom ad blocker rule(s) and the page will load as expected.