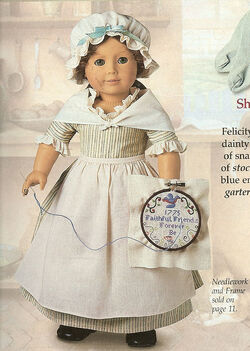 Felicity's Work Gown was introduced to Felicity's Collection in 1993 and retired in 2003. Retail cost was $22.
Gown
Cream, brown and green striped gown with ruffled sleeves and collar trim. Has slits to access Felicity's Pocket.
Kerchief
Plain off-white kerchief or fichu. Light pattern Can either be tied around the shoulders or tucked into the front of the dress for modesty.
Apron
Plain off-white apron. Ties around the waist. The weave of the apron has a light floral pattern.
Mob cap
Off-white mob cap. Double ruffle at hem. Light green ribbon attached tied into a bow.
Ad blocker interference detected!
Wikia is a free-to-use site that makes money from advertising. We have a modified experience for viewers using ad blockers

Wikia is not accessible if you've made further modifications. Remove the custom ad blocker rule(s) and the page will load as expected.