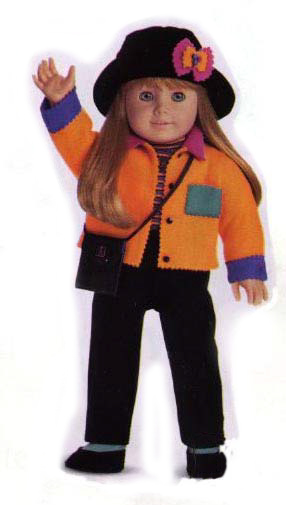 The First Day Outfit was the second meet outfit in the American Girl of Today line. It replaced the Mix and Match Outfit in 1996 and was later replaced by the Red Vinyl Jumper Outfit in 1998.
Outfit
The outfit was a fairly accurate representation of early 1990s fashion. It was available for purchase separately for $20, excluding the shoes.
Jacket
Yellow fleece jacket with purple cuffs and pink collar. Teal pocket on the left side of the jacket
Shirt
Pink, yellow, purple, teal, and black striped mock-turtleneck, short-sleeved shirt.
Leggings
Black thick legging pants. Velvet feel.
Socks
Teal ankle socks.
Shoes
Black velvet flats.
Underpants
Magenta underpants.
Ponytail Holder
Pink, yellow, purple, teal, and black striped black hair ponytail holder. Same material as shirt.
Mini Grin Pins
10 mini Grin Pins.
Accessories
These accessories were available for purchase separately for $20 or bundled with the doll for a discounted price.
Hat
Black hat with attached yellow and pink fleece bow
Magazine
Miniature magazine of the January/February 1996 edition of American Girl Magazine.
Purse
Black wallet purse with shoulder strap
Necklace
Necklace with AGoT girl logo pendant
Dollars
3 miniature $1 notes
Library Card
Library card
Lunch Tickets
5 lunch tickets
The girl's outfit was available:
Jacket: $30
Shirt (came in striped or AG rainbow print): $18
Overalls (in place of leggings): $36
Skirt (also in place of leggings): $24
Hat: $15
Ad blocker interference detected!
Wikia is a free-to-use site that makes money from advertising. We have a modified experience for viewers using ad blockers

Wikia is not accessible if you've made further modifications. Remove the custom ad blocker rule(s) and the page will load as expected.