"Gabriela" redirects here. For the doll, see Gabriela McBride (doll).
Gabriela McBride is the fifteenth Girl of the Year released by American Girl. She was released in 2017.
Character
Gabriela lives in Philadelphia, Pennsylvania.
She has a stuttering problem, and is using spoken word poetry to help with the situation along with speech therapy. She dances tap, hip-hop, and ballet at her community center, Liberty Arts.
Books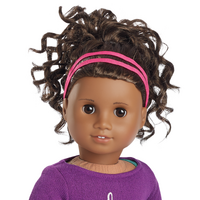 Skin: Dark
Hair: Dark Brown, curly
Eyes: Brown
Collection
See Also
Trivia
References
Ad blocker interference detected!
Wikia is a free-to-use site that makes money from advertising. We have a modified experience for viewers using ad blockers

Wikia is not accessible if you've made further modifications. Remove the custom ad blocker rule(s) and the page will load as expected.