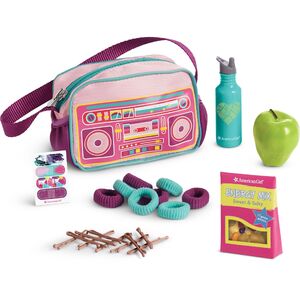 Gabriela's Accessories are part of Gabriela's Collection. The retail cost is $28.
Bag
Boombox styled tote bag. Pink body. Teal piping trim. Multicolored (bright pinks, purples, yellows, teals, etc) cassette boombox graphic on sides. Side pockets of dark magenta with elastic stretch trim. Magenta woven strap. Teal zipper closure with silver pull (and star icon) and slider.
Water Bottle
Light teal water bottle. Grey lid with molded handle and straw. Yellow line-hatch heart icon and American Girl logo on sides. Bottle does not open.
Trail Mix
Package of trail mix. Pink bag (sealed) with yellow stripe and trim around clear window. Text reads American Girl Energy Mix: Sweet and Salty. Blue star logo with 10 grams protein. Window shows molded plastic "mix" of nuts, raisins, dried fruit, etc.
Back warns against eating in white text (English, French, Spanish)
Apple
Green apple with brown stem. (The apple is shaped like a Red Delicious but painted green.)
Hair Pins
Ten brown metal hair pins.
Hairbands
Eight ponytail holders: four teal, four magenta.
Bandage Stickers
Paper of four adhesive bandage stickers: wave/sky, pink/aqua/magenta, multicolored swirls, and purple with linehatch lines.
Ad blocker interference detected!
Wikia is a free-to-use site that makes money from advertising. We have a modified experience for viewers using ad blockers

Wikia is not accessible if you've made further modifications. Remove the custom ad blocker rule(s) and the page will load as expected.