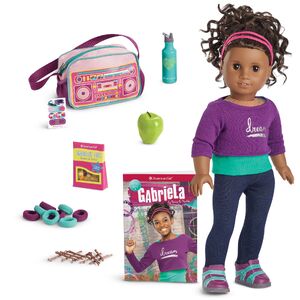 This is a list of all the items that are available for Gabriela McBride. Gabriela is a Girl of the Year and was released January 2017; however, packaging and marketing indicates that she and her items will be available into at least the start of 2018 before retiring.
Doll
Gabriela comes with a paperback copy of Gabriela.
Outfits
Accessories
Books
Craft Books
Gabriela's Starter Collection
Gabriela did not have a starter collection upon her debut. Customers were offered purchase of the doll, meet book, and Gabriela's Accessories for $143.
Ear Piercing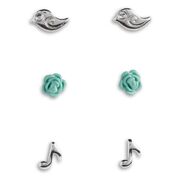 Ear piercing and a set of earrings exclusive to Gabriela and later Tenney are available, the Noteworthy Earring Studs.
Silver Songbird studs
Blue flower studs
Music eighth note studs
Gabriela's Whole World
References
Ad blocker interference detected!
Wikia is a free-to-use site that makes money from advertising. We have a modified experience for viewers using ad blockers

Wikia is not accessible if you've made further modifications. Remove the custom ad blocker rule(s) and the page will load as expected.