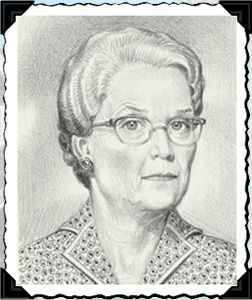 Mrs. Gilford is Molly McIntire's housekeeper.
Facts
Other Relationships
Personality
Mrs. Gilford is a dutiful woman who cares for Molly and her siblings after school. Her tasks are to cook for the family, keep the house clean, and watch the children after school until Mrs. McIntire gets home from her job at the Red Cross. She is an experimental cook and sometimes asks Molly to try her inventions. She is also a firm believer in not wasting food.
Her personal story and characterization are greatly expanded in The Light in the Cellar.
In The Books
In Meet Molly, Mrs. Gilford serves turnips for dinner and doesn't let Molly leave the table till she eats them all, not wanting her to waste food. Dr. McIntire named Mrs. Gilford's glare the "Gladys Gilford Glacial Glare" and she used to cook more tasty meals before the war. She tried planting a victory garden to cut down on canned goods, but the only crops that grew were turnips, radishes, and Lima beans. She is quoted as saying to Molly, "Wasting food is not only childish and selfish, it is unpatriotic. Think of your poor father off in some strange land. Maybe he didn't have enough to eat tonight. And you turn up your nose at fresh turnips. You will not leave this table until those turnips are gone. Completely."
Molly recalls how hard it was to knit socks when Mrs. Gilford was teaching her. Later, Mrs. Gilford is seen making bread without sugar or butter and testing them out on Molly and her friends. They mention the plan to knit socks for the Lend-a-Hand contest and she offers some extra needles and yarn if they need it.
Mrs. Gilford is not a hired housekeeper, but a neighbor who helps out and watches the McIntire children as a favor. She has a son in the military whom she dotes on and loves to talk about; her discussions about him bore Molly to tears. He is killed in action and his death greatly affects Mrs. Gilford and affect Molly as well.
Mrs. Gilford was played by Sarah Orenstein.
Ad blocker interference detected!
Wikia is a free-to-use site that makes money from advertising. We have a modified experience for viewers using ad blockers

Wikia is not accessible if you've made further modifications. Remove the custom ad blocker rule(s) and the page will load as expected.