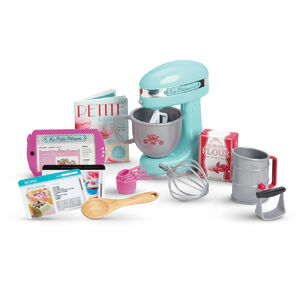 Grace's Baking Set is part of Grace's Collection and, like her, was retired at the end of 2015. The retail cost was $68.
Mixer
Light blue stand mixer. Oval top engine with indent; silver band with red loop heart logo at front and blue logo with black heart swirls and "La Pâtisserie" in text. Grey on/off button. Hinged top to lift and move top up and down; attachment plug under top for attaching beaters. Oval base with silver bottom; indent for bowl rest, curved flourish. American Girl logo on back bottom edge.
When button is pressed, attached blade will rotates for about ten seconds (can be turned off before stopping). Requires two AAA batteries (not included).
Beater Blade Attachment
White beater blade attachment; attaches to mixer.
Whisk Attachment
Grey whisk attachment; attaches to mixer.
Bowl
Grey mixing bowl with handle. Red heart and swirl flourishes on sides. Fits in indent on mixer.
Sifter
Silver grey flour sifter. Molded sieve. Internal beater attached to silver turning handle with red knob and opposite nob; rotates beater when handle is turned.
Flour box
Sealed cardstock box: "Almond Flour: Net wt 5LB (2.27Kg)" and image of almonds with American Girl logo, all in red tones; "FLOUR" on sides.
Measuring Cups
Four plastic nested measuring cups.
Pastry Cutter
Silver plastic pastry cutter. Black handle.
Wooden Spoon
Wooden stirring spoon. Hole in handle.
Baking Booklet
American Girl Petite Pastries baking magazine booklet dated Jan 2015. Includes ten pages on various baking instructions such as piping, measuring, decorating supplies, and multiple recipes.
Tablet
Pink tablet. Curved sides. Grey-silver marbled backing with permanently attached grey stand legs. Black molded button on left side; three light pink molded "speakers" on right. American Girl Logo imbedded on back. Removable pink stylus; stores on left side. Slides are slid in through slit on right side. Plain white back, allowing slides to display cleanly.
Slides
Three slides for tablet:
Petit Fours recipe with image;
Image search for "Madelines" "Meringue," Cupcake," "Macaron," and "Icing" and images found: Page 1 of 4
"La Petite Pâtisserie" blog, showing dated post "Art You Can Eat" (making mille-feuilles) from Jan 2015 and showing archived posts at side.
Ad blocker interference detected!
Wikia is a free-to-use site that makes money from advertising. We have a modified experience for viewers using ad blockers

Wikia is not accessible if you've made further modifications. Remove the custom ad blocker rule(s) and the page will load as expected.