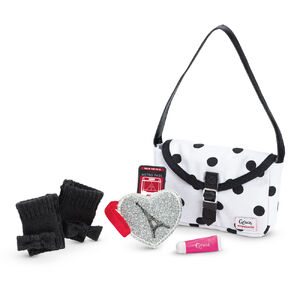 Grace's Paris Accessories is part of Grace's Collection and, like her, was retired at the end of 2015. The retail cost was $32.
Purse
White purse with black polka dots and black trim. Black shoulder strap. Fastens in the front with a black strap through a silver buckle. "Grace/American Girl" logo patch in bottom right corner.
Gloves
Black knit fingerless gloves. Bow accents at outer edge.
Metro Pass
Paris metro pass in black and dark red with white metro logo.
Lip Gloss
Dark pink tube of pretend lip gloss; white cap. "Grace" printed in white script on side.
Coin Purse
Silver glitter heart-shaped coin purse. Dark gray Eiffel tower image on front. Red ribbon wrist strap.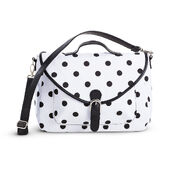 Grace Thomas's Purse was available for the cost of $38.
Ad blocker interference detected!
Wikia is a free-to-use site that makes money from advertising. We have a modified experience for viewers using ad blockers

Wikia is not accessible if you've made further modifications. Remove the custom ad blocker rule(s) and the page will load as expected.