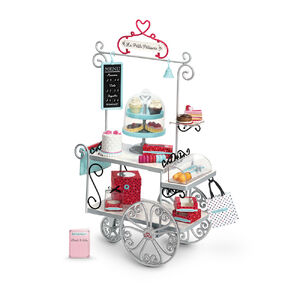 Grace's Pastry Cart is part of Grace's Collection and, like her, was retired at the end of 2015. The retail cost was $150.
Pastry Cart
Light gray three-wheeled cart. Front wheels are large with heart-shaped scrollwork. Back wheel is smaller and centered under cart. Cart body has two shelves with faux marble texture, held by light gray and black scrollwork. Front of cart has a clear quarter-cylinder display case for baguettes, about a third of the way between the upper and lower shelves. Fancy frame on right (if facing the front of the cart) side of uppershelf. At top of frame is red scrollwork holding a white "La Petite Patisserie" sign. Red push handle on back of cart.
Raspberry Tart
Pretend tartelette filled with pink cream and topped with raspberries. Berries are paler pink on top to give the effect of sprinkled sugar.
Chocolate Tart
Pretend tartelette filled with dark chocolate cream and garnished with a raspberry.
Tart Boxes
Two cardstock boxes for tartelettes. Boxes are red with black dots and white hearts print. Clear plastic window on top.
Cupcakes
Two pretend cupcakes with white flower-shaped frosting. One cupcake is light brown ("vanilla") and the other is dark brown ("chocolate").
Cupcake Box
Square cupcake box with clear plastic top. Red cardstock bottom shaped to fit around cupcake. Black ribbon and bow decorating top.
Macarons
Two stacks of pretend macarons. Each stack has half aqua blue and half dark magenta macarons. Macarons are fused together.
White Cake
Tall round cake with "quilted" white frosting. Small "pearl" sprinkles at regular intervals over sides of cake. Pink, light blue, and white trim around bottom edge. Pink and white frosting bow on top of cake.
Baguettes
Two pretend "baguettes", or loaves of French bread.
Wrappers
Two paper sleeves for the baguettes. Sleeves are white with blank light blue logo stripes on which to place stickers.
Menu
Light blue framed "chalkboard" menu. "Menu" written in white all-caps at top. White "American Girl" logo at bottom. Frame has a hook to hang from top of cart.
Menu Stickers
Sheet of black stickers with treat names, numbers, dollar signs, and ampersands written in white script.
Stand
Light blue platter with fancy molded edge trim. Light gray pedestal attached. Can stack on the cake plate to create a two-tier display stand.
Cake Plate
Light blue platter with fancy molded edge trim. Light gray pedestal attached. (Pedestal is larger than the one on the stand.) Clear plastic cake dome that fits over cake plate.
Doilies
Two silver scalloped-edge doilies. Reverse side has same red, black and white print as the pastry boxes.
Sales Pouch
Light blue cloth pouch with decorative black topstitching. Two pockets. Straps to fit over back of pastry cart. "Grace Thomas" logo in red and black in bottom right corner.
Business Cards
Stack of business cards for "La Petite Patisserie". Cards are pink with black and white polka-dot edges.
Booklet
Pale pink booklet with black edge trim. Light blue "La Petite Patisserie" logo at top of front cover. "Clients and Sales" written underneath logo in black script.
Bell
Small light blue bell. Hooks onto top of pastry cart frame.
Pastry Box Stickers
Sheet of light blue stickers. "La Petite Patisserie" logo stickers and pink heart stickers for decorating pastry boxes.
Ad blocker interference detected!
Wikia is a free-to-use site that makes money from advertising. We have a modified experience for viewers using ad blockers

Wikia is not accessible if you've made further modifications. Remove the custom ad blocker rule(s) and the page will load as expected.