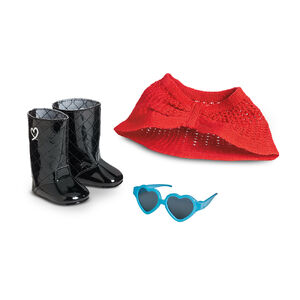 Grace's Sightseeing Accessories are part of Grace's Collection and, like her, were retired at the end of 2015. The retail cost was $28.
Shrug
Red knit shrug shawl. Gathered at front. Pulls on over head.
Boots
Tall black shiny boots with decorative quilting stitch on uppers. Toe caps do not have quilting. Stylized silver heart embroidered at outside cuff.
Sunglasses
Aqua plastic sunglasses with heart-shaped frames.
Ad blocker interference detected!
Wikia is a free-to-use site that makes money from advertising. We have a modified experience for viewers using ad blockers

Wikia is not accessible if you've made further modifications. Remove the custom ad blocker rule(s) and the page will load as expected.