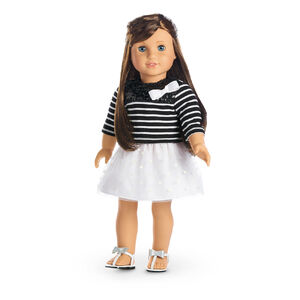 Grace's Sightseeing Outfit is part of Grace's Collection and, like her, was retired at the end of 2015. The retail cost was $30.
Tee
Black and white tee with 3/4 length sleeves. Front yoke panel of black sequined fabric, white bow on left end of yoke panel. Velcroes up the back.
Skirt
White skirt with white sheer dot overlay. Narrow red ribbon trim at waist; this is hidden when tee is not tucked in.
Sandals
White T-strap sandals. White bow accents at center front ankle.
Trivia
In early 2016, the set was sold as overstock as the Sightseeing Outfit for $18.
Ad blocker interference detected!
Wikia is a free-to-use site that makes money from advertising. We have a modified experience for viewers using ad blockers

Wikia is not accessible if you've made further modifications. Remove the custom ad blocker rule(s) and the page will load as expected.