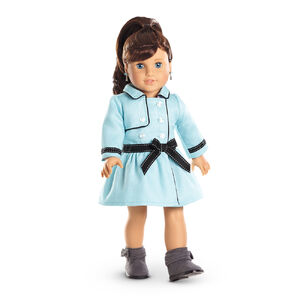 Grace's Travel Coat is part of Grace's Collection and, like her, was retired at the end of 2015. The retail cost was $28.
Coat
Light blue coat. Black piping trim around collar, down left front, and forming a rectangle on right front. Black ribbon with white top stitching around cuffs and waist, bow of same ribbon at left front on waist. Six white buttons (arranged in three rows of two buttons each) on front. Coat falls to just above the knee and is fully lined with light pink fabric.
Ad blocker interference detected!
Wikia is a free-to-use site that makes money from advertising. We have a modified experience for viewers using ad blockers

Wikia is not accessible if you've made further modifications. Remove the custom ad blocker rule(s) and the page will load as expected.