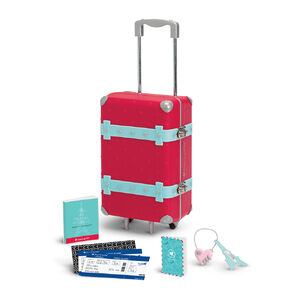 Grace's Travel Set is part of Grace's Collection and, like her, was retired at the end of 2015. The retail cost was $44.
Suitcase
Dark fuschia rolling suitcase with light blue trim. Light gray plastic caps on corners. Retractable handle. Light gray plastic "feet" to stand suitcase on when not being rolled.
Luggage Lock
Pink heart-shaped luggage lock with loop to hold luggage tag. Light gray "combination" number slots.
Luggage Tag
Light blue luggage tag in the shape of the Eiffel Tower. Grace's ID information written in a white rectangle in center of tag.
Passport
Aqua passport with white swirls. White heart in centr of cover. Red and black trim. White pages.
Plane Tickets
Two blue-and-white airplane tickets. Comes with a black sleeve with white swirls and hearts to put them in.
Journal
Aqua travel journal. Red trim at bottom edge of front cover.
Ad blocker interference detected!
Wikia is a free-to-use site that makes money from advertising. We have a modified experience for viewers using ad blockers

Wikia is not accessible if you've made further modifications. Remove the custom ad blocker rule(s) and the page will load as expected.