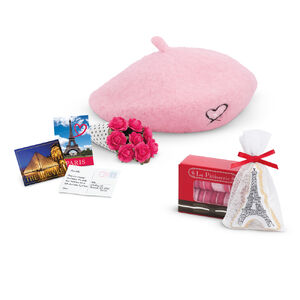 Grace's Welcome Gifts are part of Grace's Collection and, like her, were retired at the end of 2015. The retail cost was $32.
Macarons
Box of pretend macaron cookies. Box is red with black and white trim around bottom. Clear window in front of box to show macarons inside. "La Patisserie" logo above window. Inside box are two stacks of macarons in different shades of pink.
Cookie Bag
White mesh bag with red ribbon. Inside are two Eiffel tower-shaped cookies with white and black frosting.
Bouquet
Bouquet of pretend pink roses with green leaves. Stems are encased in a white cone with green dots and a green stripe around edge.
Postcards
Three postcards with pictures of famous Paris locations. Addressed to characters in Grace's stories.
Beret
Light pink fuzzy beret. Stylized black heart graphic embroidered on left front.
Trivia
While Grace and her friends are stated to live in Massachusetts, the postcard seen in catalog images addressed to Ella mistakenly lists Rhode Island's postal code.
In early 2016, the set was sold as overstock as the Paris Welcome Gifts for $19.
Ad blocker interference detected!
Wikia is a free-to-use site that makes money from advertising. We have a modified experience for viewers using ad blockers

Wikia is not accessible if you've made further modifications. Remove the custom ad blocker rule(s) and the page will load as expected.