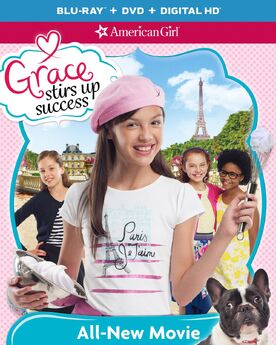 Grace Stirs Up Success is a movie retelling the stories of Grace Thomas.
Cast
Crew
US Casting by Vickie Thomas
Music Supervision by Amanda Thomas
Music by Patrick Kirst
Edited by Paul Millspaugh
Costume Design by Mary Partridge
Production Design by Inigo Navarro
Cinematography by Tim Wooster
Directed by Vince Marcello
Plot
Movie/Book Differences
Character Differences
Sylvie is not fluent in English in the books. In the movie, she is.
Mr. Hammond, Destiny, and other characters are not in the movie.
In the movie, Bonbon is a male dog, while in the books Bonbon is a female dog.
Plot Differences
Grace was not on MasterChef Junior in the books. Instead, she submitted a recipe for a baking contest and received a phone call announcing she won.
Grace didn't take Bonbon home in the movie; when her French relatives visited Bentwick, they brought Bonbon along. It is not clear whether Grace got to keep Bonbon. In the books, Grace picks up and keeps Bonbon.
While Grace was in Paris, her friends started a dog grooming business. In the book, they start a dog-walking business.
Grace and Maddy don't argue about making it right in the movie. Instead, Grace feels left out that her friends want to do the business without her and tells them they won't be able to handle it without her, which offends Maddy.
In the movie, Grace, Ella, and Maddy started a cupcake business before Grace left for Paris. In the books, they started a French-baking business after Grace came back from Paris.
In the movie, Grace tries to get Jean-Luc Pernaurd to get Uncle Bernard to work for him; this is not present in the books.
In the movie, Sylvie gives Grace a French dog charm before Grace left Paris; in the books Colette gave Grace the charm on Colette's last day at work.
Television Release
The movie aired on Family Channel in Canada on November 20, 2015 and Disney Channel in America on June 11, 2016.
Home Video Release
The movie was released digitally on June 9, 2015.
The movie was released on DVD and Blu-ray on June 23, 2015.
Bonus Content
The following extras are provided with the home release version; they are also available when purchasing the high-definition version on iTunes with the iTunes Extras feature.
Girls About Town (Blu-ray only)
Meet Bonbon (Blu-ray only)
MasterChef Junior
Doggy Day Spa
Playing Dress Up
Items Associated With the Movie
Links
References
Ad blocker interference detected!
Wikia is a free-to-use site that makes money from advertising. We have a modified experience for viewers using ad blockers

Wikia is not accessible if you've made further modifications. Remove the custom ad blocker rule(s) and the page will load as expected.