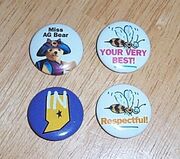 Grin Pins
were a series of pin back buttons. These were a part of the
The American Girl of Today
collection in the 1990s, but targeted more towards the girls. They were released in 1995 and later
retired
.
Pins
The pins were 1" in diameter. There were over 200 pins available which included U.S. states, positive sayings, small images, Miss AG Bear, and images of the Historical Characters. They were generally sold in packages of ten for $2 and were included as a bonus with girls' clothing.
A banner was sold separately for $12. The banner had the American Girl of Today Logo at the top and space for 143 pins.
These were phased out in the late 1990s.
Mini Grin Pins
With dolls' outfits and accessories, Mini Grin Pins were included; these were ten small stickers to simulate the full sized pins.
Ad blocker interference detected!
Wikia is a free-to-use site that makes money from advertising. We have a modified experience for viewers using ad blockers

Wikia is not accessible if you've made further modifications. Remove the custom ad blocker rule(s) and the page will load as expected.