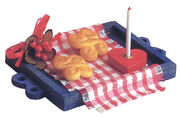 Holiday Accessories
are accessories that are part of a
Historical Character's
Holiday Collections
.
Generally, each character received one or two sets. Most characters had a set focused on celebrating a holiday food, and several had a recipe included.
Kaya does not have any specific holiday sets due to her Native American culture, but in Kaya's Hero she is gifted the horse saddle. Julie also didn't receive additional holiday accessories.
These are all retired in their original holiday form.
List of Holiday Accessories
Items in italic are retired.
References
↑

This is no longer associated with the holidays, with the removal of the holly and ribbon.
Ad blocker interference detected!
Wikia is a free-to-use site that makes money from advertising. We have a modified experience for viewers using ad blockers

Wikia is not accessible if you've made further modifications. Remove the custom ad blocker rule(s) and the page will load as expected.