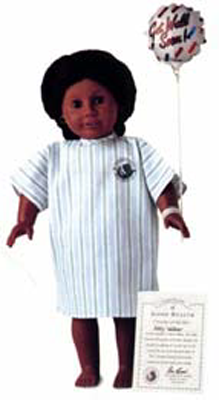 Hospital Gown I is a American Girl Item released in 1986 and retired in 2006; it was the first hospital set available and was replaced with Hospital Gown II. There was no purchase cost for the item set; it was returned on a doll when they were sent back from the American Girl Hospital.
Hospital Gown
Health Certificate
Sticker
Later removed.
Balloon
Later removed.
Hospital Band
Only returned on 18" dolls.
Ad blocker interference detected!
Wikia is a free-to-use site that makes money from advertising. We have a modified experience for viewers using ad blockers

Wikia is not accessible if you've made further modifications. Remove the custom ad blocker rule(s) and the page will load as expected.