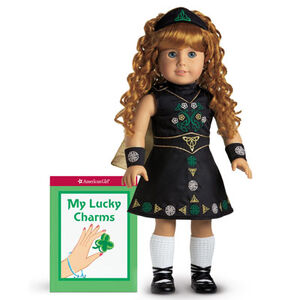 The Irish Dance Costume was a Just Like You outfit released in 2007 and retired in 2008. Retail cost was $28.
Dress
Sleeveless black dress. Gold piping trim on collar and waist. Border of gold, white, and green Celtic designs down waist and around hem. Celtic design on chest. Upside down gold design from headband.
Brat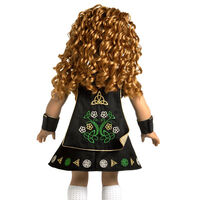 Brat, or cape. Black with gold piping trim. Gold lining. Embroidered gold, white, and green Celtic designs from chest of dress. Buttons on to dress.
Cuffs
Black cuffs with white Celtic design from dress.
Socks
White knit poodle socks, knee length.
Shoes
Black ghillies (Irish dance shoes) with black straps to criss-cross around ankles.
Wig
Golden red curly wig. Attached black headband with embroidered green Celtic design from waist of dress.
Book
My Lucky Charms: Short stories about different lucky charms for girls.
Ad blocker interference detected!
Wikia is a free-to-use site that makes money from advertising. We have a modified experience for viewers using ad blockers

Wikia is not accessible if you've made further modifications. Remove the custom ad blocker rule(s) and the page will load as expected.