Isabelle's Rosette Leotard is part of Isabelle's Collection and, like her, was retired at the end of 2014. The retail cost was $10.
Leotard
Cream sleeveless knit leotard. Princess-style front seams. Small gather at front bust. Gold tulle flower on the upper right shoulder (small backing for support). Elastic leg seams.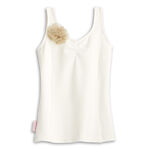 The girl's cami was available for a cost of $24.
Ad blocker interference detected!
Wikia is a free-to-use site that makes money from advertising. We have a modified experience for viewers using ad blockers

Wikia is not accessible if you've made further modifications. Remove the custom ad blocker rule(s) and the page will load as expected.