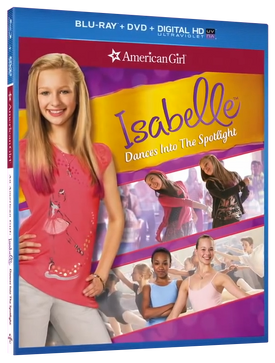 Isabelle Dances into the Spotlight is a movie retelling the stories of Isabelle Palmer.
Cast
Crew
Directed by Vince Marcello
Plot
Movie/Book Differences
Character Differences
Jade did not have any issues regarding her height in the movie. Instead, she is bothered by the extra attention Isabelle receives from their parents regarding her problems.
Gabriel, Zama, and Tutu aren't seen or mentioned in the movie.
Luisa doesn't mention her older brother Danny.
Plot Differences
In the movie, Luisa was not seen performing in The Nutcracker. In the books she played one of Mother Ginger's children, the Wolf.
There was no competition for spots in a summer ballet program in the books.
In the books, Jackie Sanchez did not receive a role in The Nutcracker. In the movie, she plays the role of the Sugar Plum Fairy.
The traveling tour Jackie Sanchez organizes in the books doesn't appear in the movie.
Isabelle and Jade didn't receive a nutcracker from their parents as a gift in the books.
In the first book, Jade was able to dance in the Autumn Festival, but in the movie she sits in the audience with her parents to watch Isabelle dance.
In the movie, Isabelle is a party guest, tin soldier, and a snowflake in The Nutcracker and Renata is a party guest, mice soldier, and a snowflake. In the books, Isabelle is the Gingerbread Girl and Renata is Isabelle's understudy and the duchess.
In the movie, Isabelle learns about visualization from Jade. In the books she learned it from Mr. Amici.
Television Release
The movie aired on the Disney Channel on August 9, 2014.
Home Video Release
The movie was released on DVD and Blu-ray on July 22, 2014.
First-run copies of the movie purchased from Target also came with a 36-page Fashion Fun with Isabelle sketchbook.[1]
Items Associated With the Movie
Links
References
Ad blocker interference detected!
Wikia is a free-to-use site that makes money from advertising. We have a modified experience for viewers using ad blockers

Wikia is not accessible if you've made further modifications. Remove the custom ad blocker rule(s) and the page will load as expected.