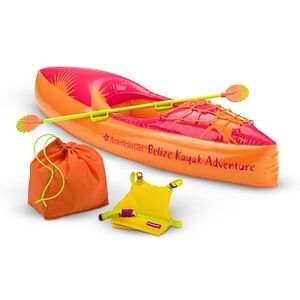 Jess's Kayak and Gear
is part of
Jess's Collection
and, like her, was
retired
at the end of 2006. The retail cost was $28.
Kayak
Inflatable orange and hot pink plastic kayak with orange star images. Attached orange net with pink loops. American Girl Logo and "Belize Kayak Adventure" on side.
Paddle
Two-handled green paddle with palm tree paddles at end. Has internal beads to give a rain stick sound and loops to place doll's hands.
Life Jacket
Yellow life jacket with bright green straps and hot pink clasps.
Bag
Orange drawstring storage bag for kayak.
Trivia
In 2009, the Kayak and Gear were released; it is a color swap of this set.
Ad blocker interference detected!
Wikia is a free-to-use site that makes money from advertising. We have a modified experience for viewers using ad blockers

Wikia is not accessible if you've made further modifications. Remove the custom ad blocker rule(s) and the page will load as expected.