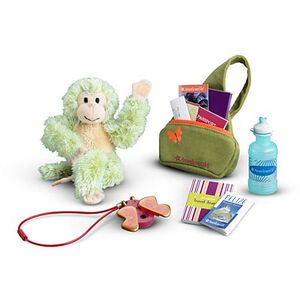 Jess's Travel Accessories
is part of
Jess's Collection
and, like her, were
retired
at the end of 2006. The retail cost was $24.
Shoulder Bag
Olive Green canvas shoulder bag with pockets in front and back and butterfly logo.
Letters
Letters from Jess's brother and sister.
Passport
Red covered pretend passport.
Document Holder
Purple covered document holder.
Map
Map of Belize
Guidebook
Guidebook about Belize.
Journal
Travel Journal with striped cover.
Water Bottle
Blue plastic water bottle with working top.
Camera
Pretend gold and pink butterfly camera on a pink cord to hang around Jess's neck that clips in back.
Plush Monkey
Green plush toy monkey. Has velcro on hands and feet.
Ad blocker interference detected!
Wikia is a free-to-use site that makes money from advertising. We have a modified experience for viewers using ad blockers

Wikia is not accessible if you've made further modifications. Remove the custom ad blocker rule(s) and the page will load as expected.