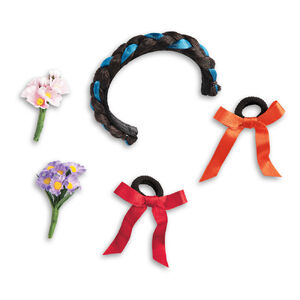 Josefina's Hairstyling Set was introduced to Josefina's Collection in 2015. The retail cost is $22.
Headband
Braided headband made with faux hair that matches the color of Josefina's hair. Turquoise ribbon is weaved into the braid. Braid is attatched to a black headband.
Hairbows
Two permanently knotted ribbon bows attatched to black elastics. One bow is made of solid red ribbon and the other is made of solid orange ribbon.
Flower Stems