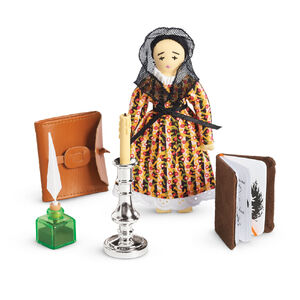 Josefina's Nighttime Accessories was introduced to Josefina's Collection in 2015. Retail cost is $45.
Candlestick
Quill
Inkwell
Ledger
Notebook
Doll
Rerelease of Niña Doll: Cloth muslin doll. Embroidered eyes, eyebrows, and mouth. Black fine yarn hair braided and up in a bun, covered by non-removable lace mantilla. Non-removable dress in similar design to Josefina's Christmas Dress and Mantilla: yellow and brown striped dress with Regency-style sleeves. Black ribbon sash and bow at waist. White ruffled collar. Attached white petticoat. White pantalettes.
See Also
Ad blocker interference detected!
Wikia is a free-to-use site that makes money from advertising. We have a modified experience for viewers using ad blockers

Wikia is not accessible if you've made further modifications. Remove the custom ad blocker rule(s) and the page will load as expected.