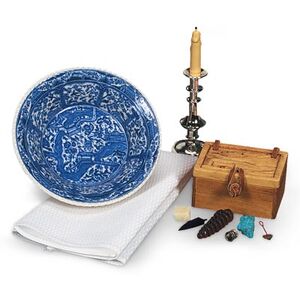 Josefina's Nighttime Necessities
were introduced to
Josefina's Collection
in
1997
and
retired
in
2006
. Retail cost was
$20
.
Basin
Blue and white wash basin. Blue "china" style design on inner basin, with houses, plants, trees, rivers, columns, and buildings. White sides, with two swirled heart-style design.
Towel
Cream textured hand towel. 11" w by 8.5" l (28.25 by 21.5 cm). Hemmed edge.
Candle
Faux tan candle with visible wick.
Candlestick
Silver metal curved candlestick; top will hold candle.
Memory Box
Small wooden box. Lid is carved with image of sun, mountains, hills, and small adobe-style building. Leather hinges and loop and knot closure at front. Dimensions 2.5" w 1.5" l X 1" d (5.75 cm w x 4 cm l x 3cm d )
Soap
Square of scented lavender soap.
Feather
Dark blue swallow feather.
Thimble
Silver thimble.
Nugget
Turquoise nugget.
Rattle
Rattlesnake's rattle. Contains small beads internally that cause a faint rattling sound.
Charm
Heart-shaped "milagros" charm.
See Also
Ad blocker interference detected!
Wikia is a free-to-use site that makes money from advertising. We have a modified experience for viewers using ad blockers

Wikia is not accessible if you've made further modifications. Remove the custom ad blocker rule(s) and the page will load as expected.