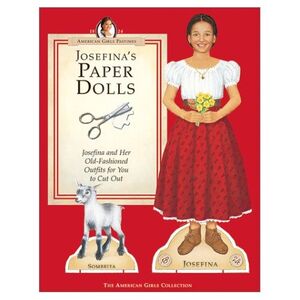 Josefina's Paper Dolls I was a set of paper dolls focusing on Josefina Montoya. It was released in 1998 and was also part of Josefina's Pastimes before being retired in 2000.
Outfits and Accessories Represented
Josefina is in a camisa and drawers.
Bouquet
Water Jar
Rebozo (in two styles)
Colcha Altar Cloth
Woven Blanket
Lantern
Moccasin with Three King's Treats
Trivia
On the back of Josefina's Directions sheet is a glossary of the Spanish terms used.
See Also