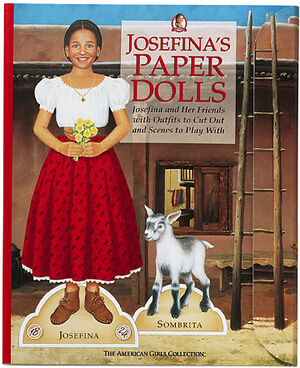 Josefina's Paper Dolls II was a set of paper dolls focusing on Josefina Montoya. It was released in 2003 and retired in 2009.
Dolls
Outfits and Accessories Represented
Bouquet
Water Jar
Rebozo (in two styles)
Colcha Altar Cloth
Woven Blanket
Lantern
Moccasin with Three King's Treats
Clara's Blue Skirt and Camisa
Mariana's Pueblo Outfit
Background Scenes
Storage
See Also
Trivia
On the back of the last page (which includes the book cover) is a glossary of the Spanish terms used.
Ad blocker interference detected!
Wikia is a free-to-use site that makes money from advertising. We have a modified experience for viewers using ad blockers

Wikia is not accessible if you've made further modifications. Remove the custom ad blocker rule(s) and the page will load as expected.