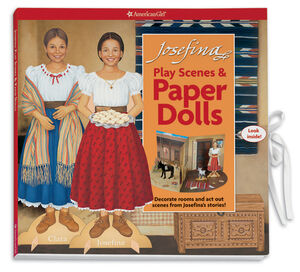 Josefina's Play Scenes and Paper Dolls is a set of paper dolls focusing on Josefina Montoya. It was released in 2011.
Dolls
Storage
Outfits and Accessories Represented
Josefina
Rebozo (in two styles)
Woven Blanket
Clara
Clara's Blue Skirt and Camisa
Clara's Calico Dress
Accessories
Primroses
Colcha Altar Cloth
Lantern
Dress Design book
Bouquet
Water Jar
Niña Doll in Christmas clothing
Niña in camisa and skirt
Moccasin with Three King's Treats
Wooden Goat
Candelabra
Candle on holder
Basket of Laundry
Broom
Basket of Vegetables
Calico Cat
Dyed Wool
Cart
Blanket
Eggs with Bowl
Violin
Chick with cracked egg
Water Jar and Hand Brush
Small black dish
Furniture and Accessories
Background Scenes
Trivia
Unlike the two prior sets, no glossary of terms is offered.
See Also
Ad blocker interference detected!
Wikia is a free-to-use site that makes money from advertising. We have a modified experience for viewers using ad blockers

Wikia is not accessible if you've made further modifications. Remove the custom ad blocker rule(s) and the page will load as expected.