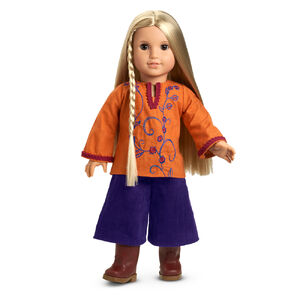 Julie's Casual Outfit was introduced to Julie's Collection in 2007 and retired in 2015. It is associated with the book Changes for Julie. The retail cost was $32.
Tunic
Orange tunic. Red trim at collar and cuffs. Red and blue embroidered flower design on the front.
Gauchos
Purple corduroy gauchos.
Boots
Burnt red boots with an embroidered design and tan soles. Velcro up the back.