Ad blocker interference detected!
Wikia is a free-to-use site that makes money from advertising. We have a modified experience for viewers using ad blockers

Wikia is not accessible if you've made further modifications. Remove the custom ad blocker rule(s) and the page will load as expected.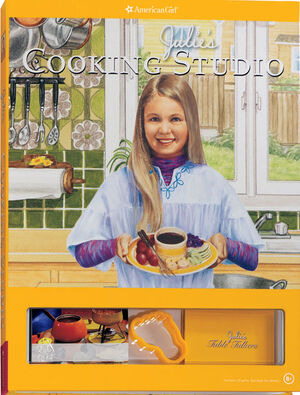 Julie's Cooking Studio was a cooking studio based on Julie Albright.
Contents
Wire-bound Recipe Book
Ten reusable place cards
Yellow Plastic foot-shaped cookie cutter
Twenty "table talker" cards
Book Contents
Julie's Kitchen: Information about cooking in the 1970s.
Cooking Seventies Style: Methods and trends in food and cooking.
Setting Julie's Table: Kitchen dining styles.
Tips for Today's Cooks: Information on food prep, based on the kitchen of the time. There is also a "Handy Hints" on a tear-out card.
Recipes
Breakfast
Granola
Strawberry-Banana Smoothie
Hot Spiced Tea
Zucchini Bread
Bacon and Cheese Quiche
Dinner
Tuna Noodle Casserole
Cheesy Broccoli
Slow-Cooker Ham and Potatoes
Chicken Stir Fry
Caesar Salad
Carrot Cake
Favorite Foods
Hot Dog Roll-Ups
Fruity Feet Cutouts
Nachos
Pistachio Cake
Sloppy Joes
Almond Cookies
Party Ideas
Fondue Fun
Craft: Fondue Pot Invitations
Craft: Mini Mushroom Name Cards
Craft: Groovy Napkin Rings
Recipe: Chocolate Fondue
Recipe: Pizza Fondue
Red, White, and Blue Bash
Craft: Standing Star Invitations
Party Game: Musical Flags
Party Game: Flag Tag
Mini-Recipe: Star-Spangled Sandwiches
Mini-Recipe: Starry Sippers
Mini Recipe: Watermelon Stars
Earth Day Party
Craft: Earth Day Invitations
Party Game: Knot Game
Party Game: Cleanup Contest
Mini-Recipe: Ice Cream Eagles
Mini-Recipe: Planet Bars
See Also