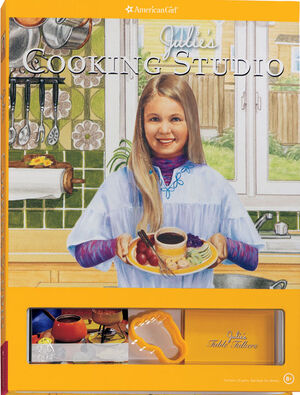 Julie's Cooking Studio was a cooking studio based on Julie Albright.
Contents
Wire-bound Recipe Book
Ten reusable place cards
Yellow Plastic foot-shaped cookie cutter
Twenty "table talker" cards
Book Contents
Julie's Kitchen: Information about cooking in the 1970s.
Cooking Seventies Style: Methods and trends in food and cooking.
Setting Julie's Table: Kitchen dining styles.
Tips for Today's Cooks: Information on food prep, based on the kitchen of the time. There is also a "Handy Hints" on a tear-out card.
Recipes
Breakfast
Granola
Strawberry-Banana Smoothie
Hot Spiced Tea
Zucchini Bread
Bacon and Cheese Quiche
Dinner
Tuna Noodle Casserole
Cheesy Broccoli
Slow-Cooker Ham and Potatoes
Chicken Stir Fry
Caesar Salad
Carrot Cake
Favorite Foods
Hot Dog Roll-Ups
Fruity Feet Cutouts
Nachos
Pistachio Cake
Sloppy Joes
Almond Cookies
Party Ideas
Fondue Fun
Craft: Fondue Pot Invitations
Craft: Mini Mushroom Name Cards
Craft: Groovy Napkin Rings
Recipe: Chocolate Fondue
Recipe: Pizza Fondue
Red, White, and Blue Bash
Craft: Standing Star Invitations
Party Game: Musical Flags
Party Game: Flag Tag
Mini-Recipe: Star-Spangled Sandwiches
Mini-Recipe: Starry Sippers
Mini Recipe: Watermelon Stars
Earth Day Party
Craft: Earth Day Invitations
Party Game: Knot Game
Party Game: Cleanup Contest
Mini-Recipe: Ice Cream Eagles
Mini-Recipe: Planet Bars
See Also
Ad blocker interference detected!
Wikia is a free-to-use site that makes money from advertising. We have a modified experience for viewers using ad blockers

Wikia is not accessible if you've made further modifications. Remove the custom ad blocker rule(s) and the page will load as expected.