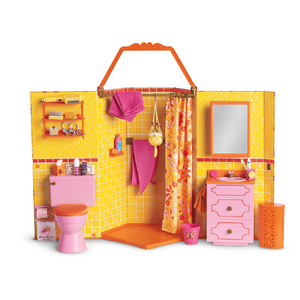 Julie's Groovy Bathroom was introduced to Julie's Collection in 2017. Retail cost is $175.
Vanity
Toilet
Shower Curtain
Hamper
Plant
Wastebasket
Soaps
Head Wrap
Towel Wrap
Toothbrush
Toothpaste
Toothbrush Holder
Hand Towels
Towel Holder
Shampoo
Perfume
Powder
Tissue Box
Toilet Paper Roll
Toilet Tissue Pack
Postcards
Hairdryer
Hairdryer Attachments
Hair Bows
Ad blocker interference detected!
Wikia is a free-to-use site that makes money from advertising. We have a modified experience for viewers using ad blockers

Wikia is not accessible if you've made further modifications. Remove the custom ad blocker rule(s) and the page will load as expected.