Julie's Play Scenes and Paper Dolls is a set of paper dolls focusing on Julie Albright. It was released in 2010.
Dolls
Julie comes in an undershirt and panties.
Ivy Ling comes in an undershirt and panties.
Storage
Generic set of dresser drawers with flower stickers
Outfits and Accessories Represented
Julie
Julie's Silk Dress
Blue-Jean Jacket and Bell-Bottom Jeans
Rainbow Tee and Plaid Pants with Pink sneakers
Ivy
Ivy's Smocked Top and Shorts
Accessories
Daisy stickers
Woven Rug
Daisy Journal
Chinese New Year Banner
God's Eye
Smiley Face
Bean Bag Chair
Basketball Ribbon
Ribbon
"Hang in there, Baby!" Poster
S.A.V.E. Poster
Eagle Kite
Macramé Owl
Paper Globe Lantern Light
Pizza
Black Light Poster
Glad Rags Sign
Purses
Fuzzy Flower art
Peace Sign Necklace
Macramé Plant holder
Hats
Belts
Figurine
Smiley Face Mug
Brady Bunch Poster
Outfits for Mannequins
Furniture
[[Julie's Room Accessories|
Lava Lamp
Background Scenes
Julie's Pop-Up Play Scenes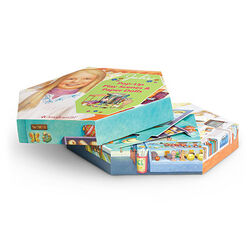 Briefly in 2012, this was also offered in Pop-Up Play Scenes. This included the dolls, background, and clothes and items from the standard play scenes as well as the following three-dimensional furniture and accessories:
Modular Shelving
Wicker Chair
Dressing Room
Hat Rack
Orange Modular Table
Purchase Bags
Display Shelves
Clothes Rack
Floor rug
Posters
See also
Ad blocker interference detected!
Wikia is a free-to-use site that makes money from advertising. We have a modified experience for viewers using ad blockers

Wikia is not accessible if you've made further modifications. Remove the custom ad blocker rule(s) and the page will load as expected.