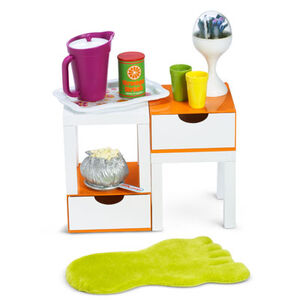 Julie's Room Accessories
were introduced to
Julie's Collection
in
2007
and
retired
in
2013
. Retail cost was
$38
.
Rug
Lime furry left foot-shaped rug. Marketed as from Gladrags.
Tables and Drawers
Two white tables and two orange and white drawers. Drawers and tables can be arranged into a coffee table, bookcases, bedside table, etc.
Terrarium
White egg-shaped terrarium. Faux plants inside.
Tray
White metal tray. Orange and pink flower design.
Popcorn
Pretend Jiffy Pop® popcorn.
Pitcher
Violet plastic pitcher. Removable white lid with violet round handle.
Cups
Two green and yellow plastic cups.
Drink Mix
Pretend orange drink mix. Green cylinder with pink lid. Orange text: "Orange Drink".