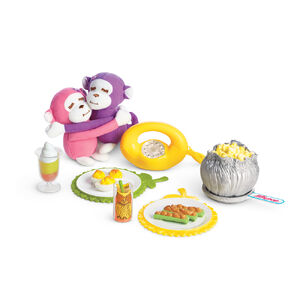 Julie's Snack Set was introduced to Julie's Collection in 2014. Retail cost is $50.
Rotary Phone
A 70's yellow plastic rotary phone with a dial that can be turned,
Gelatin Treat
Celery Sticks
Popcorn
Deviled Eggs
Glass
Plates
Monkeys
Ad blocker interference detected!
Wikia is a free-to-use site that makes money from advertising. We have a modified experience for viewers using ad blockers

Wikia is not accessible if you've made further modifications. Remove the custom ad blocker rule(s) and the page will load as expected.