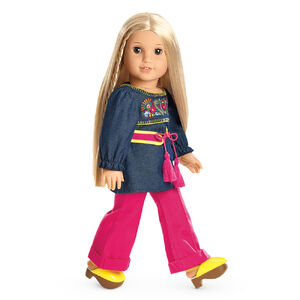 Julie's Tunic Outfit was introduced to Julie's Collection in 2014. Retail cost is $34.
Tunic
Dark blue denim chambray long sleeved tunic top. Empire style waist. Yellow embroidered basket stitch edging around open collar edge and front lower bodice edge. Bodice has multicolored culturally inspired embroidery: fans, flowers, and swirls. Elastic gathered cuffs at wrists. Hip length hemmed edge. Velcros up the back.
Belt
Bright pink thick cotton belt. Yellow bias edging around belt. Bright pink silky cord attached through round edged holes for tying. Pink knot tassels on end of cord.
Pants
Bright pink bellbottom pants. Front "hip-style" functional pockets. Center front decorative seams. Large turned cuffs. Elastic waistband at back; Velcro fly at front.
Clogs
Yellow pleather platform clog shoes. Top center seam down front of vamp. Thick brown rubber soles with curves to heel and textured sole. White inner soles. Yellow elastic straps.
Ad blocker interference detected!
Wikia is a free-to-use site that makes money from advertising. We have a modified experience for viewers using ad blockers

Wikia is not accessible if you've made further modifications. Remove the custom ad blocker rule(s) and the page will load as expected.