Julie's Journey
Talk

0
2,589pages on
this wiki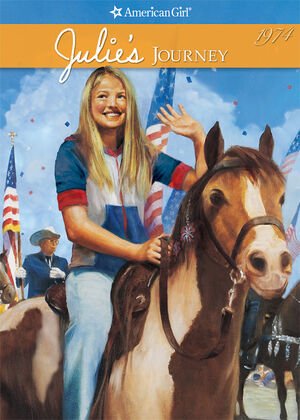 Julie's Journey
is the
fifth book
in the
Julie series
.
Facts
Characters
Only in Julie's Journey
Chapter by Chapter Summary
Chapter One: Flying
Chapter Two: Wagons, Ho!
Chapter Three: Lightning Kelly
Chapter Four: Making History
Chapter Five: Valley Forge
Looking Back: At America's Bicentennial
Discusses America's Bicentennial in 1976. Topics covered:
The demand for special events to not only celebrate the Bicentennial, but to also inspire others to think about American history.
The first Bicentennial wagon trains being shipped to each state in 1975.
Hardships travelers faced during their journey to Pittsburgh, Pennsylvania, including sickness and cold weather.
The Freedom Train, which traveled across the country with American treasures like a traveling museum.
Various ways the Bicentennial was celebrated across the United States.
The Bicentennial inspiring many Americans to take an interest with traditional American skills and their genealogies.
People who sold various souvenirs and patriotic-themed items in order to cash-in to the Bicentennial.
Issues that surrounded the Bicentennial, including the lack of recognition Native Americans received and the doubt some felt about whether or not Americans could come together after being divided with Watergate and the Vietnam War.
President Ford's Bicentennial speech at Valley Forge.
Items associated with Julie's Journey
References and Footnotes
↑

Julie begins her first journal entry two days after she arrived in Pennsylvania. The first entry was dated on June 15th.