"Kailey" redirects here. For the doll, see Kailey Hopkins (doll). For the book, see Kailey.

Kailey Hopkins was the second Girl of the Year released by the American Girl Doll company. She was released in 2003 and retired in 2004.
Facts and Personality
Kailey is a ten year old girl who lives in California. She loves the ocean and body surfing. When she hears that a new development is going to remove the local tide pools, she works to try and save them in her own way. Kailey is described as courageous, compassionate, and athletic. She loves to visit the tide pools and surf with her best friend, Tess. She and her father like to visit the restaurant right off the beach.
Book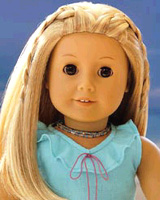 Skin: Light
Hair: Blonde with brown highlights, no bangs
Eyes: Brown
Meet outfit
Aqua sundress
Sandals
Underwear
Meet Accessories
Necklace
Bracelet
Anklet
Bag
Faux starfish and seashells
Flying disc
These came bundled with Kailey.
Collection
See: Kailey's Collection
Trivia
See Also
Ad blocker interference detected!
Wikia is a free-to-use site that makes money from advertising. We have a modified experience for viewers using ad blockers

Wikia is not accessible if you've made further modifications. Remove the custom ad blocker rule(s) and the page will load as expected.