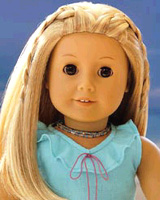 The
Kailey Hopkins
doll was released in 2003 and available for about one year before
retirement
. She is considered the
Girl of the Year
for
2003
, though some American Girl items reference her as the Girl of the Year of
2004
.
Kailey Doll
Skin: Light
Eyes: Dark Brown
Hair: Blonde, sun-streaked, straight, no bangs, no part
Kailey came with two free-hanging front braids.
Meet Outfit and Accessories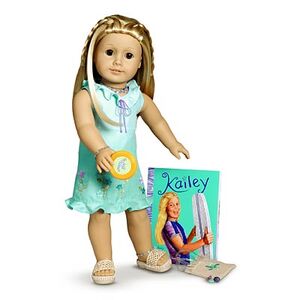 Kailey's meet outfit has little significance to the story and is not even seen on the cover of her book; it is intended to simulate a casual outfit in a warm California climate.
Dress
Shoes
Panties
Bracelet
Necklace
Anklet
Tote bag
Starfish and Shells
Flying Disc
Trivia
Kailey's Meet Sundress is not shown on the cover of her book, as she is shown in a wetsuit; however, it is illustrated in the story.
See Also