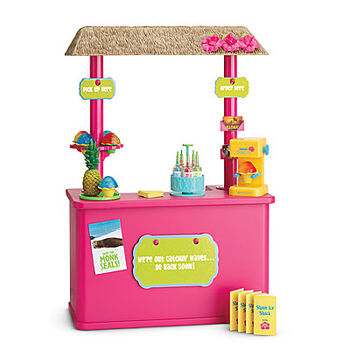 Kanani's Shave Ice Stand
is part of
Kanani's Collection
and, like her, was
retired
at the end of
2011
. The retail cost was
$115
.
Stand
Pink serving stand. Rectangular bottom of wood and particleboard, painted pink; u-shaped indentation for doll to stand at and holes reinforced with plastic for top of stand. Back interior has storage shelving. Front has two pegs for large sign.
Top of stand of lighter pink plastic with tan "grass" top with three pink flowers on left, two small sign pegs, left with molded postcard holders, and right with lobed treat cup holder. Top rests in two holes (does not click in and so is easily removed).
Shave Ice Maker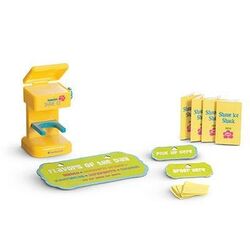 Yellow shave ice maker. Blue treat cup holder. Front of top has pink hibiscus flower and "Hawaiian Shave Ice" (Shave Ice is in all caps in bamboo font). Proper left of top has blue eight-lobe knob that turns and clicks. Top flips open to show translucent "ice". American Girl logo on front of base.
Napkins
Yellow paper napkins.
Signs
Two small and one large rectangular ripple-edged signs with notched holes to hang from pegs on stand. Green flower-and-leaves background print with light blue borders.
Small signs (for upper pegs, single hole) read Order Here and Pick Up Here in white text with solid blue backs.
Large Sign (for lower front of stand, two holes) is dual sided:
Side A:
Flavors of the Day:
Mango* Mandarin Orange * Watermelon * Strawberry * Coconut
See Our Menu For More!
Side B:
We're Out Catchin' Waves...
Be Back Soon!
Menus
Four cardstock menus. Yellow background with round highlights with white and flower logos.
Outer text:
Shave Ice Shack Menu

Inner Text:
Choose your Flavors!
Grape Strawberry Banana Sour Lemon Coconut Green Tea Cream Soda
Mango Watermelon Candy Apple Red Cotton Candy Pink Lemonade Key Lime Pie
Licorice Bubble Gum Mandarin Orange Blueberry

Back Text:
Prices:
2 Flavors
Small $1.25
Large $2.50
3 Flavors
Small $1.50
Large $2.00
(and American Girl logo)
Shave Ice Syrup Bottles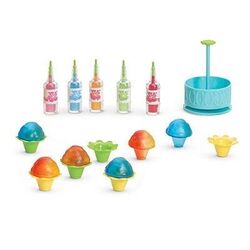 Five shave ice syrup flavor bottles. All share clear bottles with translucent colored interiors, Green nozzles, and white labels that state "Shave Ice Syrup" and have pattern of hibiscus floral silhouette outlines, and a large flower on the front by flavor title:
Pink Lemonade (pink)
Strawberry (red)
Mango (light orange)
Lime (light green)
Blueberry (blue)
Syrup Stand
Light blue syrup holder stand. Green eight-lobed top knob. Decorative oval indentations on outside of holder. Five indentations to store syrup bottles. Stand can turn when rotated over separate base.
Shave Ice
Six molded translucent shave ice treats: three blue with green highlights, and three yellow and orange mixed.
Treat Cups
Six molded treat cups with eight lobes around top and ridges: three green, three yellow.
Serving Tray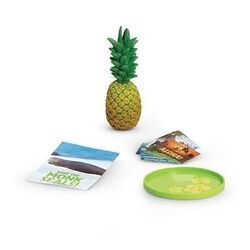 Green circular serving tray with lip at edge. Top of tray has three yellow hibiscus flowers and abbreviated A*G logo. Bottom has four small bumps for feet.
Pineapple
Molded pineapple with green leaves and yellow outer skin.
Poster
"Save the Monk Seals!" sticker poster with monk seal image. Sticker back.
Postcards
Six postcards (all with plain white backs with blue lining and stamp-space):
Coastline with "Greetings from Hawai'i!"
Mountain coast with "Aloha!"
Waterfall and nature with "Wish you were here!"
Palm fronds with "Beautiful Hawai'i"
Beach at sunset with "Aloha!"
City and beach with "Hawai'i"
Ad blocker interference detected!
Wikia is a free-to-use site that makes money from advertising. We have a modified experience for viewers using ad blockers

Wikia is not accessible if you've made further modifications. Remove the custom ad blocker rule(s) and the page will load as expected.