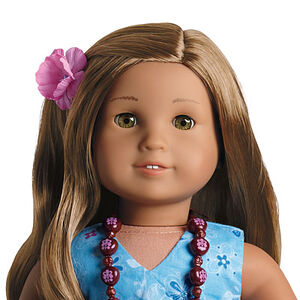 The Kanani Akina doll was released in 2011 and was available for only one year before retirement. She was considered the Girl of the Year for 2011.
Kanani Doll
Kanani's hair comes slighty ponytailed to the right, for her hair clip.
Meet Outfit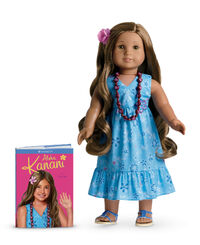 Kanani's
meet outfit
serves as a visual representation of her Hawaiian background.
Dress

Pale blue calf length floral-print sleeveless dress. High waist with faux-wrap bodice. Print of white, indigo blue, and pink tropical style flowers. Specific blue flowers have blue sequins in centers; most are outlined with off white. Periwinkle, pink, and blue flower patch with blue sequins on the petals attached to the left side of bodice. Ruffled hem. Velcros up the back.
Panties
Magenta Panties. Pale pink logo on left side.
Sandals
Blue slip on sandals. Gathered runching on center strap. Tan soles. Blue elastic straps on back.
Hair Clip
Pink cloth hibiscus flower hair clip. Green plastic alligator clip backing. Blue sequin in center.
Necklace
Faux kuku'i nut necklace. Larger "nuts" have pink decorations. Smaller spacers. Strung on cord; necklace ties with ribbon and is loose enough to be slipped on without untying.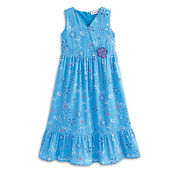 Kanani's Hawaiian Dress was available for a cost of $48.
Trivia
See Also