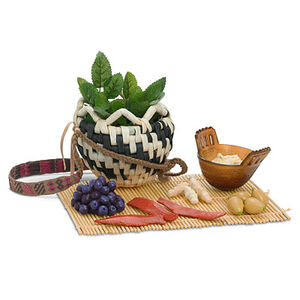 Kaya's Foods was introduced to Kaya's Collection in 2002 and modified in 2007. Retail cost is $28.
Basket
Black and white woven basket. Attached multicolored strap in addition to the braided strap used to tie the basket around the doll.
Tule Mat
Simple wooden tule mat with four rows of stitching, measuring 5.25*8.25 inches (13.5*21 cm) when fully laid out.
Bowl
Brown plastic bowl with engraved detail around it. The mashed camas root fits inside.
Camas Root
Four pieces of camas root, molded together with paint details.
Berries
Four magnetic berries. These were removed in 2007. The current berries are molded together into a pile.
Salmon
3 pieces of plastic salmon, each with engraved detailing and different shapes in a maroon-like color.
Mashed Camas
Yellow with a smooth bottom allowing it to fit nicely into the bowl. Textured top half with detailed paint work.
Finger Cakes
Four doll-sized finger cakes molded together with green tops on each.
Branches
3 plastic branches in small,medium and large sizes to fit inside the basket.
Ad blocker interference detected!
Wikia is a free-to-use site that makes money from advertising. We have a modified experience for viewers using ad blockers

Wikia is not accessible if you've made further modifications. Remove the custom ad blocker rule(s) and the page will load as expected.