Kirsten's Promise is a Short Story focusing on Kirsten Larson.
Characters
Only in Kirsten's Promise
Chapter by Chapter Summary
Meet the Author
Discusses wagon train life during the 1850s and the Oregon Trail. Topics covered:
Activity: Make a Flower Crown
Learn how to make a crown of fresh flowers.
Items Associated with Kirsten's Promise
Trivia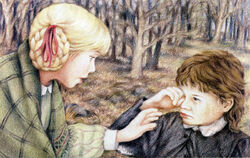 Ad blocker interference detected!
Wikia is a free-to-use site that makes money from advertising. We have a modified experience for viewers using ad blockers

Wikia is not accessible if you've made further modifications. Remove the custom ad blocker rule(s) and the page will load as expected.