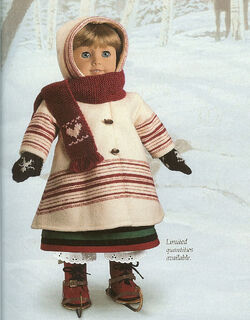 Kirsten's Skating Outfit was introduced in 1997 to Kirsten's Collection as a limited edition outfit; the retail cost was $28. It was later retired.
Coat
White wool heavy hooded coat. Red line stripes on the sleeves near bottom hem, and hood. Two faux/wooden toggle buttons down front.
Scarf
Red garter stitch knit yarn scarf. Red fringe. White hearts with lines above and below are intarsia-knit on each end.
Skates
Trivia
Ad blocker interference detected!
Wikia is a free-to-use site that makes money from advertising. We have a modified experience for viewers using ad blockers

Wikia is not accessible if you've made further modifications. Remove the custom ad blocker rule(s) and the page will load as expected.