Ad blocker interference detected!
Wikia is a free-to-use site that makes money from advertising. We have a modified experience for viewers using ad blockers

Wikia is not accessible if you've made further modifications. Remove the custom ad blocker rule(s) and the page will load as expected.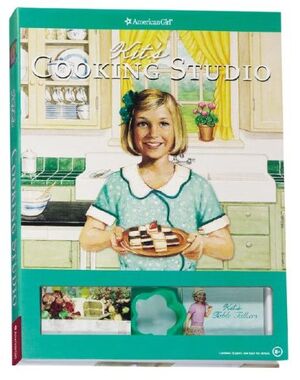 Kit's Cooking Studio was a cooking studio based on Kit Kittredge.
Contents
Wire-bound Recipe Book
Ten reusable place cards
Light Green Plastic five petal flower-shaped cookie cutter
Twenty "table talker" cards
Book Contents
Kit's Kitchen: Information about cooking in the Depression Era.
Dining During the Depression: Methods and trends in food and cooking.
Setting Kit's Table: Kitchen dining styles.
Tips for Today's Cooks: Information on food prep, based on the kitchen of the time. There is also a "Handy Hints" on a tear-out card.
Recipes
Breakfast
Oatmeal with Peaches
Ambrosia
Goldenrod Eggs
Waffles
Banana Fritters
Dinner
Cincinnati Chili
Bread Pudding
Baked Macaroni and Cheese
Glazed Carrots
Sour Cream Biscuits
Apple Kuchen
Roast Beef Hash
Favorite Foods
Checkerboard Sandwiches
Vanilla Milk Shake
Iced Fruit Tea
Oatmeal Raisin Cookies
Club Sandwiches
Fruity Freezer Jam
Party Ideas
Garden Party
Craft: Watering Can Invitations
Craft: Lantern Name Cards
Craft: Tissue Paper Flowers
Recipe: Banana Cake
Backyard Bash
Craft: Clothspin Invitation
Party Game: Roll Ball
Party Game: Say Stoop
Mini-Recipe: Chicken and Apple Salad
Mini-Recipe: Grape Lemonade
Mini Recipe: Relish Tray
Game Day
Craft: Game Day Invitation
Party Game: Alphabet Traveling
Party Game: Japanese Fan Race
Mini-Recipe: Fruit Fizz
Mini-Recipe: Popcorn Balls
Trivia
See Also