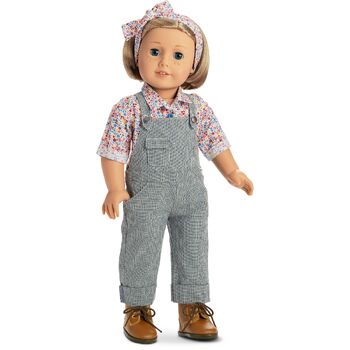 Kit's Gardening Outfit was introduced to Kit's Collection in 2018. The retail cost is $34.
Shirt
Short sleeved collared light cotton floral print shirt. Floral print is white background of multicolored floral pattern (blue, pink, yellow, and red flowers). Cuffed elbow length sleeves (cuff is stitched up). Three functional blue buttons down front placket.
Overalls
Blue striped overalls. Fabric of blue and white stripes, simulating cotton ticking fabric. Front functional right breast pocket with flap on bib. Functional dull silver buttons attach to straps. Functional front pockets. Cuffed bottom hems are tacked and sewn into place. American Girl logo plastic tag on left side of bib above pocket.
Scarf
18" long and 1 1/4" wide head scarf. Same multicolored floral print fabric as shirt.
Boots
Brown vinyl cloth ankle books. Yellow topstitching at edges, construction seams, and around eyelets. Brown synthetic functional laces. White inner lining. Brown plastic molded soles with American Girl logo on sole.
See Also