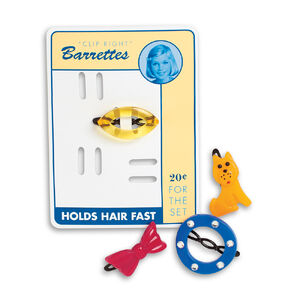 Kit's Hairstyling Set was introduced to Kit's Collection in 2014 and retired in 2016. Retail cost was $12.
Barrettes
A set of four plastic barrettes:
Yellow dog-shaped barrette with face details
Red bow-shaped barrette
Oval faux amber barrette
Blue ring barrette with rhinestones
Barrette Card
"Clip-Right Barrettes" card with a portrait of Kit on the upper right-hand side. Appears to be patterned after a vintage Goody Barrettes package.[1]
References
Ad blocker interference detected!
Wikia is a free-to-use site that makes money from advertising. We have a modified experience for viewers using ad blockers

Wikia is not accessible if you've made further modifications. Remove the custom ad blocker rule(s) and the page will load as expected.