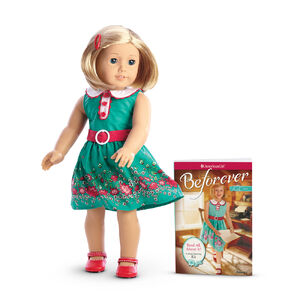 The
Kit Kittredge
doll was released in
2000
and updated in Fall 2014 with
BeForever
.
Kit Doll
There are freckles under her eyes.
Hair: Blond, bob length, side part, no bangs.
Kit is the only short-haired historical doll; her hair is cut into a bob, a style that became fashionable in the late 20s and early 30s.
Meet Outfit
First Edition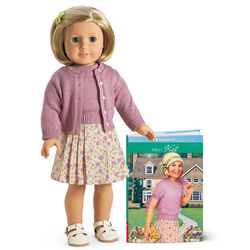 Kit's
meet outfit
reflects the fashion ideals of her time period. The combination of twinset sweaters and skirt allow versatility and thus more wear out of clothes. The skirt is intended to simulate feedsack print, showing how things were recycled during the 1930s; however, Kit wears this outfit before her family starts having financial troubles.
After the launch of BeForever, the set was sold (minus hair accessories) as Kit's Classic Outfit for $36.
A draft sketch of the prototype Kit outfit can be seen here.
Sweater Set
Lavender knit sweater set of blouse and sweater. The blouse is a short-sleeved crew-neck style with snaps in the back rather than velcro. The cardigan, also crew-neck style, is long-sleeved with working buttons on the front.
Skirt
Ivory skirt with a green, purple, and orchid floral print. It is pleated symmetrically with a flat panel in front. It closes on the side with Velcro, though originally it closed with a zipper.
Bloomers
White cotton bloomer-style underpants with elastic around the legs to make them puffy. Kit's underpants are similar to Samantha's, Molly's, and Emily's; however, they do not have a ruffle like Samantha's and Nellie's.
Sandals
Ivory colored canvas t-strap sandals. Originally with functional buckles, they now have no-snag Velcro.
Hair Barrette
Green plastic barrette with two open diamond shapes. It resembles the jade Art Deco pieces that were common in the 1920s and 1930s.
The BeForever Outfit for Kit is available alone for $36.
Dress
Blue-green sleeveless dress with a white Peter Pan collar, red floral buttons, red waistband with a white round buckle, and a flared skirt with floral print.
Barrette
Bright red hair barette with black clasp.
Bloomers
White cotton bloomers with elastic around the legs and waist, similar to the first edition bloomers.
Shoes
Scarlet Mary Jane shoes with white stitching.
Meet Accessories
First Edition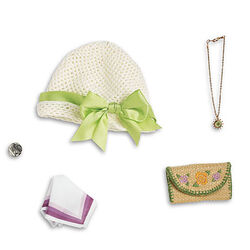 Hat
White crocheted cloche hat with a green bow tied around. The bow is intended to be worn on Kit's right.
Purse
Woven clutch purse with a loop and button fastener. Embroidered flowers (two purple, one yellow) on the front and sewn together with decorative green thread which is also around the flap of the purse.
Buffalo Nickel
A reproduction of a buffalo nickel.
Compass Necklace
A golden pendant shaped like a ship's wheel with compass on a gold chain.
Handkerchief
White handkerchief trimmed in purple and lavender.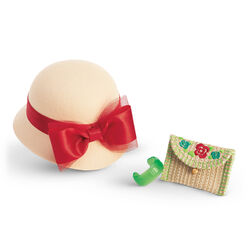 Bracelet
Lime green bracelet with glitters.
Hat
Cream sun hat with a red bow.
Purse
Woven clutch purse similar to the pre-BeForever version, with colors of the embroidered flowers matching those of Kit's new meet outfit.
The matching outfit was available.
Sweater Set: $45
Skirt: $32
Hat: $14. The hat was not originally sold with the outfit.
Compass Necklace: $18. This was later phased out around 2004.
An outfit inspired by Kit's BeForever Meet Outfit is available:
Ruby Pom-Pom Top: $32
Garden Blooms Skirt: $42
Red Ribbon Hat: $22
Trivia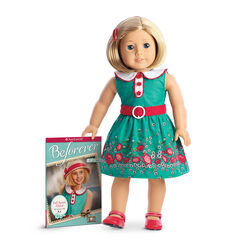 Kit was the first new doll released once Mattel had taken over American Girl.
Kit is the only Historical Character whose meet outfit originally contained no velcro.
Kit's original meet outfit for girls had two releases, one in 2000 and then in 2008.
When BeForever was launched Kit was erroneously shown with Full Speed Ahead: My Journey with Kit instead of Read All About It!.[1]
References