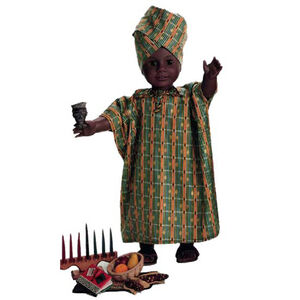 The
Kwanzaa Outfit
was a
American Girl of Today
outfit released in
1996
and
retired
in
1999
. Retail cost was
$22
.
The complementary accessory set was the Kwanzaa Decorations.
Kaftan Dress
Rectangular dress of orange, green, gold, and white stripes. Seams down the side with openings for hands, and has velcro at the circular neck opening for ease of wear.
While referred to a "bubu" in the catalogs the proper spelling is boubou, and this is just one of the many names for the kaftan dress.
Head Wrap
Rectangular head scarf, narrowed at one end. Has two snaps to ease in keeping the wrap on.
Necklace
Beaded gold, red, amber, and green necklace on black cord. Clasps with gold clasp.
Sandals
Leather slip on sandals with green and red beads; when worn, are intended to simulate thong sandals.
Ad blocker interference detected!
Wikia is a free-to-use site that makes money from advertising. We have a modified experience for viewers using ad blockers

Wikia is not accessible if you've made further modifications. Remove the custom ad blocker rule(s) and the page will load as expected.